Read up on all the BETA leaks that have happened this week!
September 20, 2011
Hello everyone and welcome to another "Leak Session"[: Post that is entirely or almost entirely dedicated to the BETA leaks.]! The past couple of days have been crazy in terms of content leaking from the BETA! Different sources and different information! We will try to give you a heads up on all the latest leaks so you can stay up to date with everything around your favourite game! Moreover, we will present you with some cool stuff that are coming to dota-two.com!
I will try to present the news as they came in from older to newer to preserve the momentum.
DOTA 2 Regional Matchmaking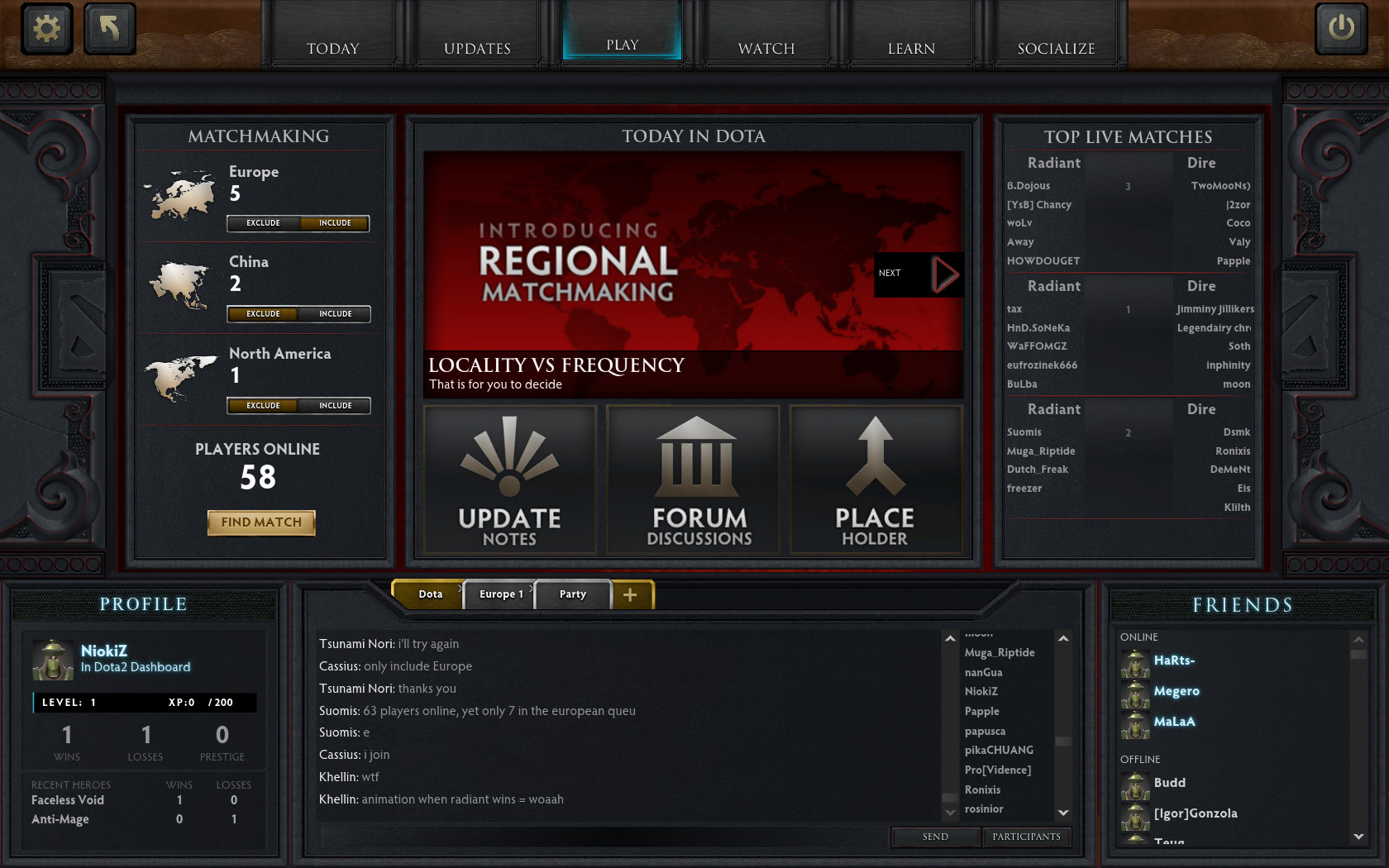 The screenshot above leaked by a French forum shows the introduction of regional matchmaking into the game. This means that people from different countries are able to play with one another, most notably American and European/Chinese players considering the large distance and the resulting high latency commonly seen in DotA1 competitive games.
» Join the forum conversation here.
Dota 2 Hero Icons [UPDATED]
The picture above shows what seems to be new hero icons. We can't be sure that these are legit or not, since most of them look very unfinished or WIP concept art, but we can confirm that the Bloodseeker and Yurnero icons are legitimate because we've seen them before. Nonetheless, this is certainly an exciting find as it offers us a sneak preview of the rest of the heroes! Here are our speculations on who these heroes are (from top row, left to right):
Kunkka, Ursa Warrior, Huskar, Lanaya, Phantom Assassin, Rikimaru, Juggernaut, Bloodseeker, Bone Clinkz, Skeleton King, Atropos, Rubick, Broodmother, Jakiro, Medusa, Naix.
» Join the forum conversation here.
DOTA 2 Screenshots
The, now infamous, vietnamese beta tester Tsunami Nori posted the above screenshots! It looks like the UI is adjustable? Anyway, here they are!
» Join the forum conversation here.
DOTA2 Hero Skill Icons + Hero Stories
Check out the leaked unfinished Hero Skill Icons! Some of those placeholders are just for the lulz! If you haven't checked it yet, I advise you to do it asap! Also, check out the, also unfinished, Hero Stories!
» Join the forum conversation here.
DOTA 2 Models Leak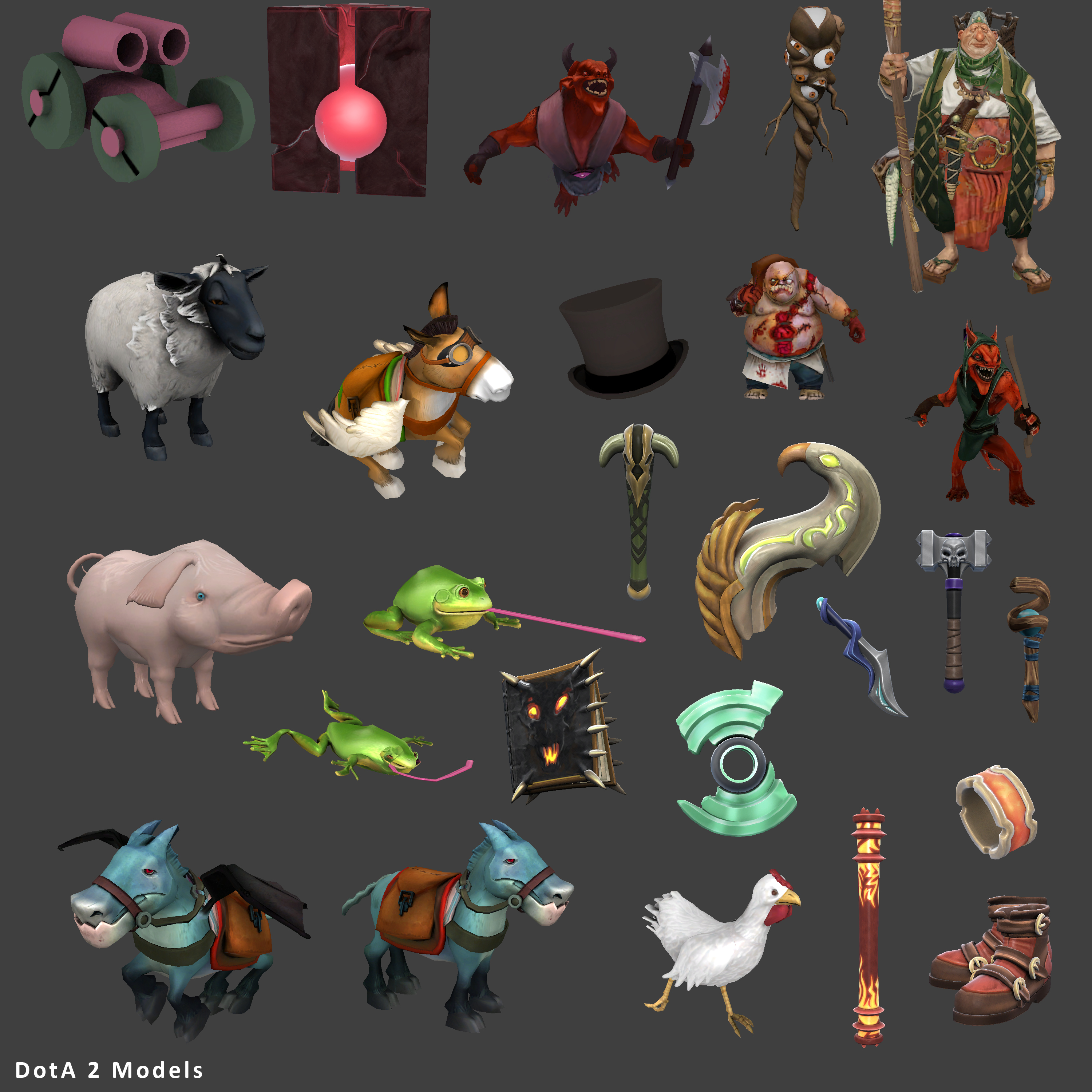 Check the above models leak from the BETA! Yes, you spotted well that is a HAT! 🙂
» Join the forum conversation here.
DOTA2 Sounds Leaked
Apparently someone has leaked all the DOTA 2 hero sound files! Check them all out on Youtube here! Interestingly enough every hero has around 9 minutes worth of phrases recorded! Go Valve!
» Join the forum conversation here.
New DOTA 2 Hero Icons
As you can see from the image above, our colleagues over at dota2.com.br have found this image revealing even more hero icons. Our guesses, from top left to right: Batrider, Bounty Hunter, Undying, Queen of Pain, Omniknight, Luna, Gyrocopter.
» Join the forum conversation here.
DOTA 2 BETA UI Video
Have a look at the current (BETA) DOTA 2 User Interface! Impressive or not, we are all fantasizing it on our computer screen!
» Join the forum conversation here.
Win Your Own DOTA 2 Beta Key
PlayDotA is hosting a contest called "U-Photo" with the winners being given DotA 2 Beta keys as prizes. There are totally 12 keys up for grabs and they will be given in pairs. So, 6 lucky guys will be given two keys to share with one of their friends. Do you feel lucky? If yes, don't lose time! The contest starts on the 21st and ends on the 27th!
» Join the forum conversation here.
DOTA 2 Alpha Concepts
There has been a new leak with some early models of the Alpha phase of the game. They are not great and I am not sure why anyone would interested in them, but if you are have a look here.
Some of the Voice Actors
And yes, another leak from some file of the game client! The data mining is never ending as you can understand! Ahem, to the point! In the following file, among other notes, you can find some of the names of the voice actors that worked with Valve on DOTA 2.
DOTA 2 Client Download
This has been posted in the dota2.com.br website. Supposedly it's legit but of course there is nothing that you can do without a key other than drool over the UI. If you are interested follow these instructions:
Torrent Link: http://www.mediafire.com/?4b8grwwl63qwdp8
Instructions:
1) Unrar
2) Go to Steam\steamapps\common\dota 2 beta
3) Execute Dota2.exe
NOTE: Download at your own risk. We do not advise you to do so.
Stay Tuned to Dota-Two.com
Stay tuned everyone. Some really exciting new stuff are headed our way and we are all super thrilled to share them with you. We have been working really hard and we are sure you will enjoy every single event! We will not give any spoilers yet as we want to keep it a surprise but stay tuned, it's coming!
P.S: The title is inspired from the following legendary WoW video!